How to switch careers – essential change of career advice that all potential career shifters need to know.
It sounds so easy. You are not satisfied on your current career path and everyone around you just tells you to change careers.
But if you have no experience and face the completely normal anxieties that such a big life-changing career decision throws your way, where do you start your journey and how can you make sure your new career change will be successful?
Packed with lots of advice on implementing a successful career change from an accredited career coach with professional and personal experience, the Mapleleaf Vision blog will provide you with what you need to know to start a new career.
How to decide on a career change.
Before you leap into becoming a career shifter, it is important to make sure that a career change is what you want and what you need.
This requires a bit of soul-searching. What is it about your current role that is making your feel dissatisfied or even unhappy? Is this a local problem (an issue linked to your current workplace specifically) or a wider problem (an industry issue)? In other words, would changing your job or role to another branch of the same industry solve your problem – if have you really fallen out of love with the whole career path you are on?
Once you are sure that a career change is the right path forward, you can commit to the decision you have made. If you are still undecided, why not consider asking to take a quick career change quiz to give you the confidence to choose the best course of action for you?
How to change career paths.
You have committed to the decision that finding a new career is the right course of action. It is here where there is a fork in the road. Either you will know what you want to do next, or you will face uncertainty (maybe even have no clue) what you want your new career to be. Worry not. Whichever fork you travel down, the first stage to a successful career change is always the preparation.
The preparation stage helps you evaluate what you don't want, what you are great at and what is important to you. By understanding these essential aspects, you will increase your chances of ensuring your new career is something you will love. Here are the 3 steps:
Understand the reasons why your current job is making you unhappy – you don't want history repeating itself and wind-up just job hopping and unfulfilled.
Know your strengths, and areas for development – this will help you match your skills to job requirements.
Think about what is important to you and identify the priorities – this will help you work out where to compromise and what is non-negotiable to you.
Finding a new career that you love means aligning your drivers and passions with the work that you do. This is a bit like trying on clothes or shoes – you need to make sure you get a good fit. It is the same with finding a new career, it needs to be the right fit for YOU.
Career changers who know their next career path.
If you have a strong idea of which career you want next and are confident it's the right fit for you, now is the time to start the search stage. This might consist of:
Networking.
Contacting companies directly, even if they are not advertising.
Using job search platforms, learn to utilise the filters and set up alerts.
Job fairs / recruitment events.
Social media / LinkedIn – joining group to network and discover opportunities.
Recruitment agencies.
Don't forget that you should define your geographical area; knowing how far you are willing to commute to work will help keep your search manageable and focused.
This is also a good time to consider creating an action plan to set out clear goals, milestones and steps to take within a specific time-frame to keep your search on track. You could include doing research, relevant training to enhance your skills, and any personal rebranding on your CV, covering letter and social profiles that aligns you to your new career and appeals to potential employers. Consider how your existing experiences and transferable skills make you a preferred candidate for the positions you now seek and use this in your personal statement.
Once your CV is optimised, you are ready to apply and start the interviewing process. For more tips on applications and interviews, grab the FREE top tips guide in the red banner at the bottom of this page.
Looking for a career change but don't know what direction to go.
You know that switching careers is the right choice. You understand the reasons why your current career is not the right fit for you and know your strengths and what is important to you. But you are stuck. Maybe you haven't discovered your true drivers and passion, so you simply don't know which career would be a good fit. If this is you, you're not alone.
When you are lost or stuck at a career crossroads, it is important that you have options, so you select the best route for you.
Do nothing
You could choose this option but if you don't take action to change (and even ignoring the decision is a choice to avoid action) then you will simply remain in your current career facing the same problems.
Do it yourself
Research into how to discover your true drivers and passions, take online tests and try to figure out the validity and value so that you understand what the results mean for you. You could try finding your perfect career "fit" using things like 'Career Anchors' (Schein, 1978) and so long as you are confident that your next career choice is the right fit for you, jump straight back in at the job search stage.
Get a quick, professional assessment
Kick-start your new career with the 'Why am I stuck?' insights assessment and in less than an hour, have three concrete outcomes that get your career change started.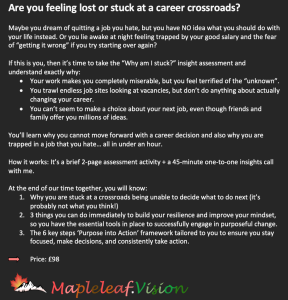 Get lots of personal support and guidance through the career change process
Mapleleaf Vision was founded to enable you to fearlessly Live Daring Dreams. Rooted in the belief that we are only limited by what we think is possible, it's never too late to start the journey. Expertly designed packages tailored to your specific goals, guide you through a 4-step proven process that delivers tangible results.
🍁"Clients move beyond the crossroads that has kept them trapped in a world that enclosed around them and leave feeling liberated. They know their right path to fulfillment. Freed from limiting beliefs that have inhibited chasing their dreams, clients have a step-by-step structured approach on how to reach success. What's more, they have all the tools and mindset to turn dream goals into a reality. Imagine a life without limits – that's what Mapleleaf Vision clients achieve."🍁
Want to work with me? Sign up here.
#LiveDaringDreams