How to find a new job: 5 essential tips to find you a new career path (plus a surprising revelation!)
Have you evaluated your current job satisfaction and decided it's time to make a career change?
Before you go leaping into the job sites and throwing your CV out to any advert you half understand, consider these essential tips on how to find a new job. And stick around for the surprising revelation – you'll be happy you did!
Review your interests and skills
Develop a better understanding about the type of environment you want to work in, how much you like doing different tasks or having responsibilities, and the kind of management style that is a good fit for your personality.
Do you like clear direction or autonomy? Do you prefer lively, fast-paced environments or calm, reflective spaces? Do you thrive working with others or working alone?
What are you great at? Where have you achieved success in the past during your academic and professional career? What do you enjoy doing and would happily spend infinite time being absorbed doing it? What motivates you? What do others say you are skillful at doing?
Consider career change opportunities in different industries
Brainstorm all the careers you can think of that you would consider outside of your current industry. Share your list with family, friends, and colleagues whose opinions you trust and invite them to add anything else that they could visualise you doing as a new career option.
What are you being drawn towards? Which options are naturally repelling from? Is there anything in common with the types of roles that are sparking your interest?
When you have an idea of the types of career change opportunities that are appealing, you can expand on the list of jobs connected: using the browsing filters on job sites will help.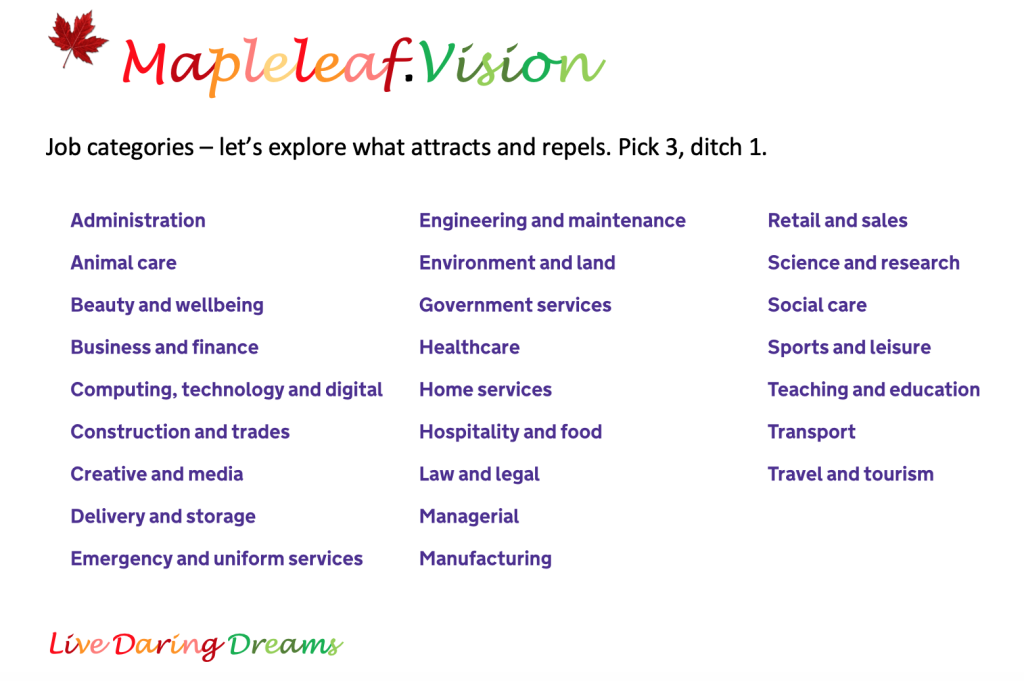 Improve your chances of success
Now that you are getting some new career ideas, you can start enhancing your transferable skills to improve your chances of success. Grow a new professional network and speak with people in your chosen industry to find out which skills you should focus on.
It may be useful to consider the different ways to increase your knowledge and learn about industry topics, such as attending courses, workshops, webinars, and attending events. You may need a more formal qualification to pursue a new professional career.
Other ways to enhance your knowledge may involve volunteer opportunities, freelance work or even shadowing someone from your new professional network.
Rebrand yourself
Before starting the application process, you may need to undergo some personal rebranding to align your CV, covering letter and social profiles to your new career to make it appealing to potential employers. Consider how your existing experiences and transferable skills make you a preferred candidate for the positions you now seek and make a personal statement about why you are a good fit with the skills you bring. Remember to update any business cards, personal websites and contact information to reflect your new brand.
Once your CV is optimised, you are ready to apply and start the interviewing process. For more tips on applications and interviews, grab the FREE top tips guide in the red banner at the bottom of this page.
Search for a new job
Now is the time to get onto the job search websites to get a better idea of what new career opportunities are available within your broad range of parameters. Ensure you keep a variety of options to consider from the new career ideas your shortlisted. Don't forget that there may be change of career path opportunities within your current industry that involves moving to another company or branch that better correlates with your skills and long-term goals.
What career path is right for me?
If you have asked this question, chances are you will have researched the answer and found advice about finding a job that is your passion.
Revelation moment….
Your passion is NOT your job – but you do need to find it to make you happy IN your job. Your passion is who you are. Your job is how you express it.
Want to discover your passion so you can find a job you love?
Click here to find out more about how career coaching can help you – and never wonder what career path is right for you ever again.
#LiveDaringDreams