How to map your next course of action to leave your teaching career behind.
Now that you have created your exit strategy, to successfully leave your teaching career behind you need to decide your course of action.
There are four broad stages of transition from leaving a career in education to changing to a new career path. These consist of:
Creating an exit strategy
Choosing your course of action
Transitioning into a new life
The Mapleleaf Vision blog will cover each of these stages to provide helpful advice, practical tips, and plenty of supportive guidance from a former headteacher who has successfully transitioned to a new career path and discovering it is possible to #LiveDaringDreams
Deciding on your next course of action to change careers.
It is natural to feel overwhelmed at where to begin a career change if all you have known is a career in education. The outside world recruits in a very different way and you may have been dipping into job advertising sites without a clue what half the jobs are or what you want to do next. But in the same way creating a clear exit strategy will support your journey to leave the classroom behind, so too will mapping your next course of action.
The good news is that there are several clear options from which to decide your next steps. There is no right or wrong answer. Each will provide a choice of routes from which to leave your teaching career and whatever you decide will map your next course of action.
Stepping-Stone Jobs
A stepping-stone job bridges the gap between more permanent careers. It has the advantage of providing income whilst making a bigger decision on the next career choice – and it enables you to leave teaching, so you have the time and headspace within which to make those decisions. Being a stepping-stone role, it is not a job you need to tick all the boxes. It's temporary. This is an ideal choice if you want to exit relatively quickly but are not yet sure what other options are available. It is also a good choice if you are clear on your next permanent career move but need to retrain or gain experience. Stepping-stone jobs enable a transition which 'buys time' into something more permanent. But be mindful that what is meant to be a stepping-stone role does not become a role you don't move on from (unless you love it); it is easy to get "stuck" in a stepping-stone job just because it's easier than making another change in your career.
Multiple Income Streams
Rather than considering a singular new career path, many people instead opt of multiple income streams. This means that instead of relying on one job, income is generated by different sources. This route offers flexibility and the opportunity to 'try out' different roles. It is a mindset shift from work being a 'career path' – instead, you are simply generating income to cover your bottom-line+ each month and the sources of income become less important in the bigger picture. This route is a good option for anyone wanting more flexibility and variety over the work they do. It is possible to have multiple income streams in a more structured way, such as combining a part time job with private tutoring for example or someone setting up their own business and subsidising with other income sources. However, it is less likely to provide a stable, set routine and so this route is not going to suit everyone.
Career Change
The most direct route is to move from a career in education to an alternative new career. This works extremely well for those who have a clear idea of what they would like to do next, especially if they have strong transferable skills or experience that matches their new career path. It is also a good choice if you are not looking to leave teaching relatively soon, as it generally takes more time to decide upon and then find a new change of career. It has the advantage that there are less changes because it negates the need for a stepping-stone job. But if you don't know what you want to do instead of a career in education, it can be hard to do this alone without having clear headspace to think, research and discover your transferable skills. If you need financial stability and want fewer job changes, this route offers the best options.
Switching Within Education
This option is less about leaving your teaching career behind and more about changing within education. This might involve moving to a different school, taking on a different role such as supply work or tutoring, or even moving into an education related field. There are many options available for teachers wanting to change their careers; it does not need to be a completely different industry. If you like education but find the teaching role no longer a route you want to take, it is worth exploring alternatives within the profession. This is a good choice if you want an easier transition where you can readily identify your transferable skills and search for a new job within a familiar industry. But naturally, if you want to leave education altogether, this is not the right route to take.
Your map to leaving a teaching career behind
Like a road trip, if you set out without a map the chances are you will get lost and end up going around in circles getting stressed because you don't know where you are going.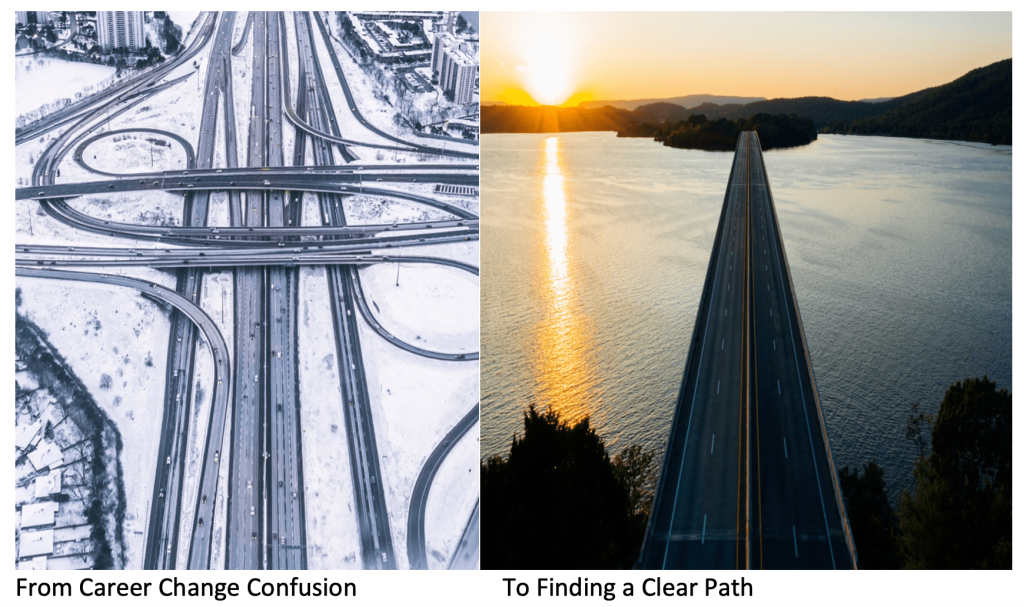 But by knowing your route in advance – be it a stepping-stone role, multiple income streams, direct career change or a role switch – you have a clear map in place that will inform your next course of actions. Congratulations, you know what your journey entails and can successfully take the steps to leave your teaching career behind.
Don't miss "Discovering and finding a new career path." Sign up to the mailing list at the bottom of the page to be notified about the next blog and never miss a thing.
Want more help? Reach out and contact me for a free consultation about your career change options.