Are you looking for a high-quality CV writing professional service?
Great, you are in the right place. Alongside offering a range of bespoke coaching packages for those looking to find the career of their dreams, I offer professional CV writing services to help you get that interview for your next job.
CV support services include:
Spelling and grammar checks
CV review
CV optimising for ATS
CV writing
Covering letters
LinkedIn profiles
Complete packages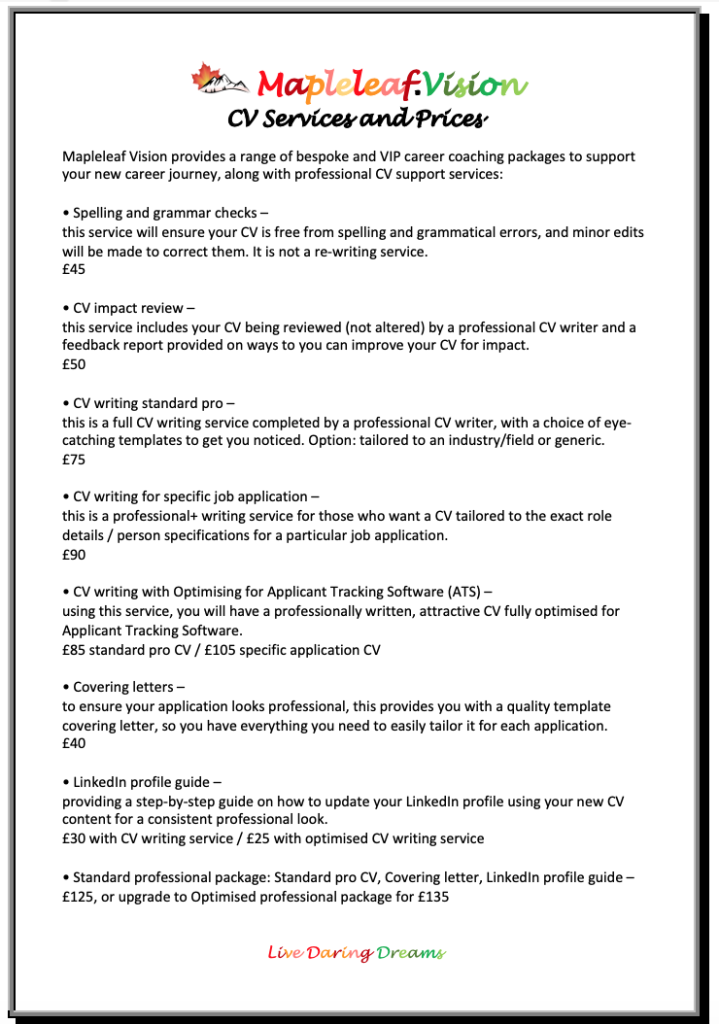 Orders are usually completed within 3-5 working days depending on demand and level of work required. To book a CV service, please contact here, providing your email so I can liaise over your order.
Alternative, contact me via LinkedIn
#LiveDaringDreams
Here is what some customers have to say
Great news – I managed to successfully get a new role outside of teaching. I was offered the FIRST job I applied for using the CV you wrote for me!

I was shortlisted (for that job I sent you a message about getting some screening call tips) and then after a successful interview, I was selected for the position. So, I'm super proud and happy! I start on August 14th so I can finish the academic year, have a holiday with my children and then start my new career!

Many thanks for your support and service.

Louise
"Effective and Efficient. Worth the money 100%. Thank you Will!" GO
"Thank you again for your help with the next step on my journey – it's quite a scary journey as I step outside my comfort zone but I know I have made the right decision and am pleased to have found a professional who is there to help me along the way."

Emma
"Really appreciate your help with my CV. Superb service! Thank you" Claire
"Will wrote my CV and I have to say what a magician he is! Very talented writer, who listened to my concerns and explained his reasoning. My CV looks amazing and just reading it gave me a massive confidence boost! Very happy with the prompt service. Would 100% recommend"

Emilia
"Thanks for providing me with the content of CV, it's perfect." Aastha
"I am really pleased with my CV which was done by Will. In comparison to my old CV I saw a great improvement from the style to the overall writing. With the information I provided Will was able to write a really well written and professional cv in a short amount of time. Also, the response and advice to any of my requests were always extremely helpful."

Maya
"It looks great! Thank you. I will definitely recommend your services." Denny
"The CV you created is great! Thank you, for your service." Fara
"I'm incredibly happy with the CV that Will created for me. I just wish I'd gone to him sooner! Have already recommending him to my friends. Thanks again x"

JA
"Thank you for sending my cv and cover letter promptly. I am very pleased with the quality of both documents." Rizlan
"Great job, Thanks. Will created an excellent CV and cover letter to suit my profession. Great service."

Ryan
"I am so happy with my CV. The writer Will was patient and was ready to change and modify it to my interest." Reddy
"What made my experience great was that the CV was written in a professional manner and I didn't have to wait long to receive my CV. I am pleased with it."

Sam
"Great job really pleased with the outcome and how Will managed to make a hgv driver sound like a god cheers!" JL