How to avoid the 'crash and burn' in leadership – and save your staff and company!
There's a common analogy in the world of leadership taken from the airline industry… put your own oxygen mask on first on before helping those around you.
But it is NOT true.
You are probably familiar with this analogy. No doubt you will have heard it many times before.
On the surface, this seems to be sensible advice for those in positions of leadership. If you don't take care of yourself, who will take care of those who you take care of?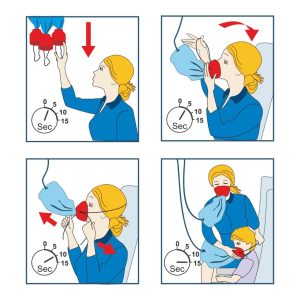 But here is the issue…
Effective leaders need better advice to avoid major problems.
What no one seems to have noticed is that oxygen masks only drop down in an emergency.
Something has gone catastrophically wrong, and only now do you let out ear-piercing screams, scramble to pull a yellow plastic cup over your nose and mouth, before attempting to fasten something to the passenger making desperate phone calls home to loved ones whilst periodically throwing up?
Hmmm. There is something wrong with this analogy that perhaps you have not noticed before now.
So, my question is this.
Leaders, why wait until you are plummeting to earth at 926kph before you take steps to look after yourself?
Surely if you took care of yourself beforehand, you would not be leading your business towards a crash and burnout "incident". A far better outcome for you – and more helpful to those around you.
Need a leadership coach with years of leadership experience to help you look at things with a different perspective?
#LiveDaringDreams
Want more leadership posts?
Do not disturb unless urgent – important meeting in progress. [06.09.22]
How to fix 5 common leadership problems in under 30 minutes – leaving you plenty of time to find new ones. [24.10.22]