How do people make career choices – and find dream jobs?
Ever wondered how to choose or change careers? How is it that some people just seem to know which career is right for them and others just 'pick and pray'. Well, your question is about to get answered with some academic research and practical advice that you can put into action right away.
How people make career choices
Research conducted by Kelly and Lee (2002) identified four key elements that contribute to the way people make career choice decisions.
Identity:
Where you come from, who you are now and who you want to be in the future, combined with wider elements such as lifestyle, life purpose and demographic factors (such as sexuality, gender, race, and class) all influence how you perceive yourself in the world around you and the decisions you make about your career choice.
Understanding the environment:
Environmental influences can impact on the way you perceive the world of work. The impact of politics, the media, your family and friends, the job market and career opportunities available shape decisions. How you 'see' yourself and your perceptions of jobs are more relevant that things are actually like.
Decision-making and research skills:
As you would expect, this is an important aspect of the process. However, this is in conjunction with the value placed on rational logic, as well as gut instincts that influence decisions. This is sometimes referred to as 'head or heart' decisions. Depending upon which you place most value, your career decisions will be influenced accordingly.
Personal attributes:
As with everything else in life, there is variation in what skills and personal attributes people possess. Not everyone is equally equipped to make good career choices or able to put plans into action. Those who do not naturally have these skills can enhance them through specific tailored intervention.  It doesn't mean you have to give up the idea of having a dream job, it just means that you will need quality help to achieve it.
Discover your decision-making style with a free assessment
Do you want practical advice that you can put into action right away?
Take the free 10-minute assessment "What type of decision-maker are you?" and get a tailored piece of practical advice that you can put into action right away.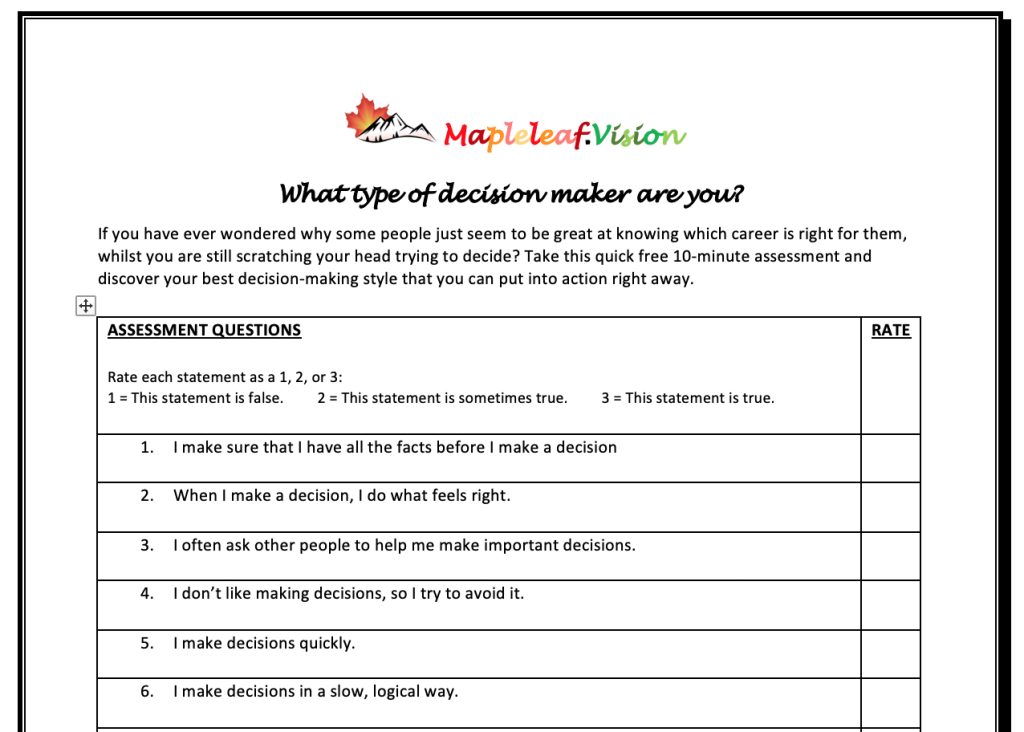 How to claim your free assessment – click here to message me.
#LiveDaringDreams
Other helpful blogs you might like…